Blogger and fellow human-nature-speculator
Khurram Naik
had this riff inspired by Thomas Nagel's famous consciousness-research
paper
"What is it like to be a bat?"
What is life like for an

idiot

? Some of it certainly has to do with credulity. Maybe [it's as though] they lack depth perception, except for truth. For some, I suspect it has something to do with a lack of a vaguely coherent metaphysics. They have no intuitions for what sorts of things cause other things, so without such constraints almost anything could be true. On the other hand, I think a hallmark of stupidity is clinging tightly to certain beliefs, these sorts of people have well-defined (and completely wrong) worldviews.




What got me thinking about this: a comment on the Youtube video for Justin Timberlake's "My Love"




DONT READ THIS CAUSE IT ACTUALLY WORKS. YOU WILL GET KISSED ON THE NEAREST POSSIBLE FRIDAY BY THE LOVE OF YOUR LIFE. TOMORROW WILL BE THE BEST DAY OF YOUR LIFE. HOWEVER IF YOU DO NOT POST THIS COMMENT TO AT LEAST 3 VIDEOS YOU WILL DIE WITHIN 2 DAYS. NOW UV STARTED READING THIS SO DUNT STOP. THIS IS SO SCARY. PUT THIS ON AT LEAST 5 VIDEOS IN 143 MINUTES WHEN UR DONE PRESS F6 AND UR LOVERS NAME WILL APPEAR ON THE SCREEN IN BIG LETTERS. THIS IS SO SCARY CAUSE IT ACTUALLY WORK misssunshine9110

2 months ago
I think this sort of thing works because deep down, we are very driven by superstition - it is a powerful heuristic. Reading things like this still have the faintest registerable effect on me, some childish voice saying "but what if it's true?"
Like the distinction xkcd
draws
between scientists and non-scientists (below), I think there's a fundamental difference between rational and tribal/superstitious approaches to the world: While we all, biologically, harbor weaknesses for attributing supernatural agency to the world, some people take these and run with them whereas others recognize them as something we can combat through rationality.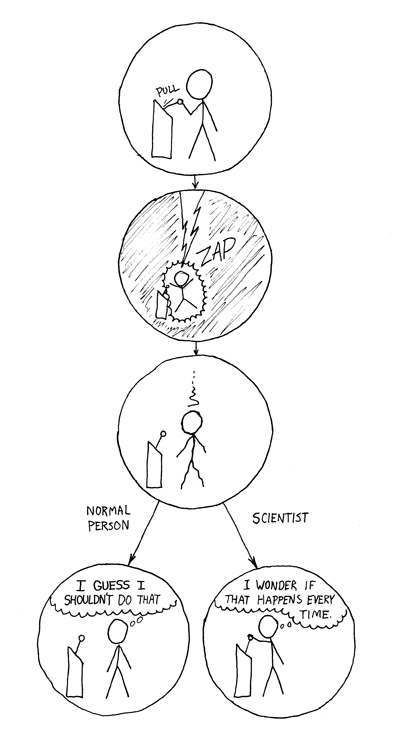 We form our metaphysics, our ideas of what-causes-what, not just through unselfconsciously receiving data from the world, but through self-aware pruning of our first impulses: We learn about selection effects, confirmation bias, and agency bias (whether or not we use those words for it), and use those to raise the burden of proof required for certain hypotheses about the way the world works.
So it always surprises me to run into people who pursue science as a career without seeming to understand that part of the philosophy behind it; without applying that method of inquiry to the whole of their life. For instance, the other night one of my colleagues mentioned (in the context of a group pizza-topping conversation about vegetarianism or lack thereof) that she would be happy to eat meat, as long as it wasn't beef. Why? Because
her astrologer told her that if she ate beef she wouldn't graduate
from her MPhil
.
Okay, sure, we all have our irrationalities. But there seems to be a difference between secretly giving a little too much credence to something like this prophecy, knowing that it's silly, and publicly, proudly defending your superstition with "There are things science can't explain." (An actual scientist replied "Yes, perhaps, but
is this really one of those things
?")
I'm going to try to avoid going down the religion vs science road here; partially because it's been written about elsewhere, both well and poorly, and partially because I find the topic fairly boring. What I'd like to look into a little more closely is what underlies a disagreement like this, which I see as a really basic mismatch of opinion about:
What counts as a "fact" or "evidence"
How to ask and answer questions about the world, and
What sort of evidence a given claim requires.
This I find interesting because it's involved in the red/blue divide in the US. As Stephen Colbert put it, "this country is divided between people who think with their heads... and people who
know
with their hearts." Though he delivered it as satire, it stood out to me as the kind of statement red-staters would actually get behind— it's a virtue in those communities to not be led astray by the facts.
In the next post I want to look in more detail at a specific example of this, trying to determine where this basic mismatch of priorities/priors might come from, and whether it's worthwhile trying to do anything about it.
(to be continued...)